Foto foto lucu mr Bean
berikut tidak seperti biasanya,dijamin lebih lucu akibat ulah jail tangan tangan master grafis.Siapa yang tidak kenal
mr Bean
,tokoh utama film komedi yang diperankan Oleh
Rowan Atkinson
.Wajah normalnya saja sudah sangat lucu,apalagi dibumbui "sesuatu" dari hasil desain grafis photo sop.
Gambar gambar mr Bean yang lucu
berikut semoga bisa menghibur,tapi jika anda seorang Ibu yang sedang mengandung jangan lupa nyebut "amit-amit jabang bayi".
Lihat, kumpulan
gambar gambar hasil editan yang cukup bagus dan sempurna
.,aksi mr Bean dalam memerankan berbagai tokoh dan karakter :D .....
Mr Bean as Indian Lady
Mr Bean as Sexy Lady
Mr Bean as Baby
Mr Bean as Orphan
Mr Bean as Borat
Surprised Mr Bean
Mr Bean as Obama(O-Bean-Ma)
Mr Bean as Bond(Bean 007)
Help
Mr Bean as Santa
Mr Bean as Queen
Mr Bean as Superman(SuperBean)
Old Ill Mr Bean
Mr Bean With Bad Hair
Gay Bean
Mr Bean Come From
Undercover Mr Bean
Mr Bean on Stamp
Mr Bean with Cheerleaders
Mr Bean as Joker
Mr Bean as Avatar
19th century Cop Mr Bean
Avatar Bean
Mr Bean as Monalisa(BeanLisa)
Mr Bean as Vampire
ButterBean
Dummy Mr Bean
Gollumn Bean
Mrs Bean
Mr Bean with joile
Double Mr Bean
Mr Bean as Mime
Mr Bean as Women
Pregnant Bean
Sandra Bullock Mr Bean
Mr Bean Lips as eyes
Romantic Bean
Mr Bean as Presley
Terminator Bean
Pop Bean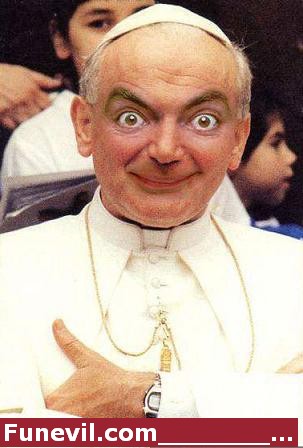 Mr Bean as Blaznivy
Mr Bean as Bin laden( Bean Laden)
Mr Bean as General
Mr Bean as Beautiful Lady
Thanks Dah Dateng ke caramem.com
Anda baru saja membaca posting dengan judul :
Foto foto lucu mr Bean
. Anda juga dapat membaca ARTIKEL MENARIK lainnya di bawah ini.